Lifestyle
Planning Your Ultimate Malibu Getaway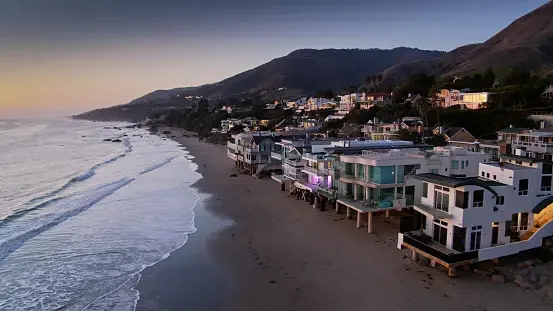 Are you yearning for sun-soaked beaches, stunning ocean views, and a touch of luxury? Look no further than Malibu, California – a paradise that offers the perfect blend of relaxation, adventure, and indulgence. Planning your ultimate Malibu getaway requires careful consideration of various aspects to ensure an unforgettable experience.
Choosing the Ideal Time to Visit
Malibu's weather is enticing year-round, but certain seasons amplify its charm. Spring and fall are particularly delightful, boasting mild temperatures and fewer crowds. Avoiding peak tourist times allows you to revel in the beauty of Malibu's natural landscapes without the hustle and bustle.
Selecting Accommodation Options
Your choice of accommodation can greatly influence your stay. From luxury resorts that pamper you with ocean vistas to cozy beachside cottages that exude a homely ambiance, Malibu offers a range of options to suit your preferences.
Exploring Malibu's Beaches
No Malibu getaway is complete without basking on its stunning beaches. Zuma Beach is a sunbather's haven, with its wide sandy shores and gentle waves. For a more intimate experience, head to El Matador State Beach, where dramatic cliffs and hidden coves make for a photographer's paradise.
Indulging in Water Activities
If you're seeking adventure, Malibu delivers. Sign up for surfing lessons even if you're a novice – the waves here are perfect for beginners. Alternatively, kayaking along the coastline lets you discover hidden coves and mesmerizing marine life.
Discovering Malibu's Culinary Scene
Malibu's culinary offerings are as captivating as its scenery. Indulge in a farm-to-table dining experience, savoring dishes crafted from locally sourced ingredients. For seafood enthusiasts, the allure of enjoying fresh catches by the shore is irresistible.
Hiking and Nature Adventures
Nature enthusiasts will find solace in Malibu's diverse trails. Explore the rugged beauty of the Santa Monica Mountains, where breathtaking vistas await at every turn. For a moderate hike, Solstice Canyon enchants with its waterfall and historic ruins.
Art and Culture in Malibu
Delve into Malibu's artistic side with a visit to the Getty Villa. This museum offers a glimpse into ancient art and architecture, transporting you to a different era. Additionally, local art galleries showcase the vibrant contemporary talents of the region.
Retail Therapy in Malibu
Unleash your inner shopaholic at the Malibu Country Mart, where upscale boutiques offer everything from designer fashion to unique home décor. Don't miss the chance to snag beachwear and souvenirs from local stores, a reminder of your coastal escape.
Day Trips and Nearby Attractions
While Malibu has its allure, nearby attractions are worth exploring. The iconic Santa Monica Pier is just a short drive away, offering amusement park fun and stunning views of the coastline. If you're a wine enthusiast, a day trip to the Malibu Wine Country promises vineyard tours and tastings.
Relaxation and Wellness
Balance adventure with relaxation through wellness activities. Join a yoga retreat by the ocean, harmonizing your body and mind with the soothing sound of waves. Pamper yourself at luxurious spas, where rejuvenating treatments complete your tranquil experience.
Capturing Memories and Sharing Experiences
The beauty of Malibu begs to be captured. Take your photography skills to new heights as you document your journey. Share your experiences on social media, inspiring others to embark on their own Malibu adventure.
Budgeting and Cost-effective Tips
Planning a Malibu getaway doesn't have to break the bank. Set a budget and stick to it while enjoying all that Malibu offers. From opting for affordable dining options to exploring free attractions, clever choices ensure a memorable yet economical vacation.
Safety and Health Considerations
While enjoying the ocean, prioritize safety. Familiarize yourself with beach safety guidelines and be mindful of ocean currents. Pack essentials such as sunscreen, hats, and first aid supplies to ensure a comfortable and safe stay.
Conclusion
Embarking on a Malibu getaway promises an experience that combines relaxation, adventure, and luxury in perfect harmony. From the sun-drenched beaches to the captivating cultural offerings, this place caters to diverse interests, making it an ideal destination for every traveler. So, pack your bags, embrace the coastal breeze, and let Malibu weave its magic on you.
Frequently Asked Questions
Q: What's the optimal period for exploring Malibu?
A: Spring and fall are considered the best seasons, offering mild weather and fewer crowds.
Q: What water activities can I enjoy in Malibu?
A: Malibu offers surfing lessons for beginners and kayaking along its picturesque coastline.
Q: Are there budget-friendly accommodation options in Malibu?
A: Yes, in addition to luxury resorts, there are cozy beachside cottages and other affordable lodging choices.
Q: What are some nearby attractions to explore from Malibu?
A: You can visit the Santa Monica Pier for amusement park fun or explore the Malibu Wine Country for vineyard tours.
Q: How can I ensure a safe beach experience in Malibu?
A: Familiarize yourself with beach safety guidelines and ocean currents, and always pack essential items like sunscreen and first aid supplies.